The Ultimate in Hunting Blind Silence and Comfort from Ameristep®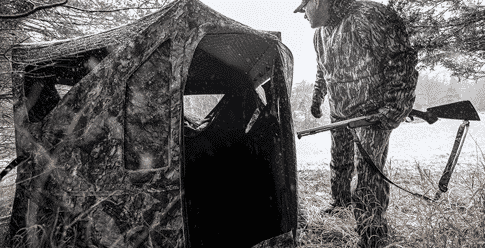 Long sits in the hunting blind are often necessary to seal the deal and punch a tag.
There's no reason to suffer from inadequate stools and flimsy, noisy chairs.
The new Silent Swivel Blind Chair from Ameristep® delivers quietness, comfort and portability while remaining completely mobile in the blind.
The chair is made for all-day comfort, but the real draw is the silent swivel seat. Every aspect of the chair is designed to be quiet so that a hunter can swing around and check every angle without making a peep. The armless design makes it easy to shoot in a sitting position with a rifle, crossbow or vertical bow.
Another hunter friendly feature is the telescoping legs. The legs are adjustable to a desired height and can also be adjusted individually to sit on uneven ground. The wide leg design gives added stability for leaning left or right to get the perfect shot without losing balance. In addition, the oversized feet provide an ultra-stable platform that really grips the ground.
The chair is constructed with a breathable mesh backrest and seat to prevent sweat and moisture pooling no matter the weather. Hunt through the heat and remain cool or take a sit in the frigid cold without moisture gathering and freezing to the fabric. It's a winning design for all weather conditions.
Finally, seat folds to maximize portability and ease of transportation. The integrated shoulder strap and carry bag, along with lightweight materials, are a breeze to carry in and out of the field.
The quietness, comfort, and functionality of the Ameristep Silent Swivel Blind Chair will set every hunter up for success. Take a load off and hunt more effectively with Ameristep.
Silent Swivel Blind Chair Features:
Durable powder-coated steel frame
Heavy-duty, weather-resistant fabric
Armless design for extra mobility
Folds for easy transport
Telescoping legs
MSRP: $99.99
AMERISTEP®
Hunting success begins with the element of surprise. Ameristep® delivers this with ground blinds and accessories that cleverly conceal positions from up above, down below and every angle in between. Hidden among nature, hunters get closer to the action and enjoy more thrilling experiences. Ameristep is proud to be the industry innovator that offers versatility and mobility in all its designs – because successful hunters need the flexibility to choose the location that's right, not the location that's convenient. Once you're there, Ameristep's simplified assembly allows hunters to set up quickly and capitalize on the moment. With dozens of patented features and exclusive relationships with leading industry supply partners, Ameristep extends confidence and helps make great hunts happen. Learn more at Ameristep.com.
Tell us how can we improve this post?
Comments
comments